Ben
August 1, 1988 - December 19, 2009
I am a cat person. I guess you could tell. My feline friends are large (tigers) and small. The first cat I ever raised, one on one, was my bi-color, full rumpy Manx named Zoe, Greek for 'Life in All Its Manifestations'. Her illustrated likeness is the logo for the Zoe Foundation, a 501 c3 non-profit organization working to save the tiger before extinction. I wanted to remember Ben as well, so I made him the face and name of my sugarplums.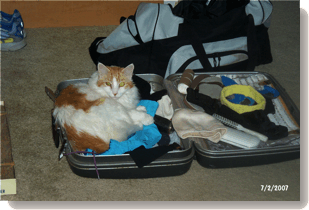 Ben is a bicolor, (orange and white), twelve pound stumpy? He's a Japanese Bobtail. I met Ben while I was working on a historic home on Savage Street in downtown Charleston, SC - my home for forty years. He was found shortly following hurricane Hugo and adopted by an older, retired gentleman that everyone in the area called 'The Mayor of Savage Street'. His wife told me he just loved the cat although he never really liked cats until he adopted Ben. Ben would follow him up and down the street as he walked the neighborhood greeting workers and friends.
Mr. Hewitt, 'The Mayor of Savage Street' died suddenly one morning. When EMS came they scared Ben. He seemed lost and alone after Mr. Hewitt's passing. Ben was wandering around a busy street, and Ann, Mr. Hewitt's wife, was moving to a smaller home several blocks away. She decided she could not take Ben and asked the neighbors if anyone wanted him. Only one of the neighbors, who all loved to pet him, was interested. However, the woman who offered traveled extensively which meant it would have been difficult for her to keep him. That's where I came in.
I said I would love to take Ben. Mrs. Hewitt really wanted one of the neighbors to adopt him, but she decided it would be best for me to provide him with a home. I built a new fence off the back of the studio and installed cat fencing so he and Zoe could not wander. I installed two cat doors so they could go in and out when they wanted. Zoe had been an indoor cat all her life, so when she got out it was a new and wonderful experience. Ben is a very gentle, playful cat.
Click image for slide show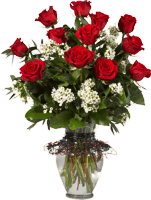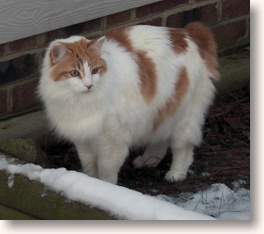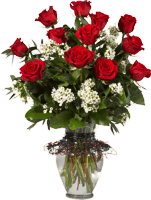 August 1, 1988 - December 19, 2009 I can't say enough about a beautiful, wonderful cat. Ben was a bi-color, Japanese Bobtail. I took him home in 1994 after his original owner passed away and his wife decided to move to a different home. She thought Ben would not be safe in the new neighborhood. Ben was 21 years old when I had to have him put to sleep. He fought a courageous battle against Basel cell Carcinoma and old age. In his final two years, he was blind and could not hear very well. Nevertheless, he could still get around quite well and would always come to my lap when I was working at the computer or relaxing on the sofa. He would stretch up with his two front legs, rest them on mine, and then lift his back leg up and wait for a hand to give him a boost. I did everything for him I could, but it was not enough. I will miss you my friend. God speed Ben.